Home
>
News
> EU SME Centre Meeting with João Falardo, Economic and Commercial Counselor at the Embassy of Portugal in China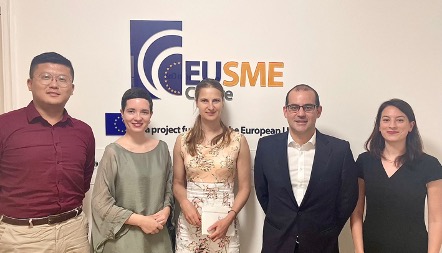 On 14 July, the EU SME Centre team was pleased to meet again with João Falardo, Economic and Commercial Counselor at the Embassy of Portugal in China, for an exchange filled with insights on SMEs' current priorities and challenges.
Our meeting was an opportunity to explore joint actions and events, including roadshows, to make the best use of hybrid formats to connect producers in the EU with distributors in China.
As the success of Portugal's GI products and the increase in the country's exports to China have shown, a higher awareness among distributors and consumers is key to increasing the presence on the Chinese market of companies who excel in their field. To this end, our training events and workshops can help companies in their strategies to reach a wider audience on the fast-changing social media, livestream, and e-commerce platforms in China.
Our closer cooperation will also focus on identifying knowledge gaps and providing SMEs with reliable information through training sessions and workshops on due diligence, brand registration, and intellectual property rights.
These actions will aim to better equip SMEs on their internationalisation path, with a particular focus on industries in which edge and expertise have given Portugal a competitive advantage, including the agri-food sector, building materials, clean energy, renewable energy, and water resources management.
We are looking forward to coordinating new events with the Embassy of Portugal and business support organisations to enhance the visibility and success of Portuguese companies on the Chinese market.