Home
>
Calendar
> China's 1st Online Import Fair & Matchmaking of Consumer Goods 2022 | Call for Exhibitors

China has the world's largest market for imported consumer products. Despite the impact of the Covid-19 pandemic, Chinese consumers' demand for high-quality and diverse imported products remains stable and strong.
In this context, the EU SME Centre would like to invite you to exhibit in China's First Online Import Fair & Matchmaking of Consumer Goods 2022 (CICE), organised by China Council for the Promotion of International Trade (CCPIT), the largest foreign trade and investment promotion agency in the country.
Opening a year from 28 April 2022 until 28 April 2023, this event will provide EU SME exhibitors numerous benefits including a year-long promotion through CCPIT's official channels, meeting with selected Chinese partners, and a discounted registration fee through the EU SME Centre.
As many traditional offline exhibitions may not take place this year, this event will provide a unique opportunity for European companies to expand their business network in China, and establish new contacts.
Event Highlights
One-year value-added advertisement on the CICE platform plus social media
Reliable platform with full functions and user-friendly experience
Experienced organizer in online exhibitions and matchmaking events with international clients
8+ exhibition categories
Online matchmaking with Chinese suppliers and dealers
Participation in training, seminars, and forums
4 levels of exhibition fees to meet different needs of promotion and supporting activities
Click here to visit the event's official webpage.
Sign up through the EU SME Centre before 31 May 2022 to enjoy a 20% discount on the exhibition fee.
If you have any questions, please contact: Amy.li@eusmecentre.org.cn
Exhibition Categories
Skincare, Haircare, Oral Care & Make-up
Maternal & Infant Product
Toy
Pet Supplies
Clothes and Apparels
Cultural & Innovative Product
Wearable Electronic Product
Kitchen & Bathroom Supplies
Other related products
Exhibition Scale
40+ exhibitors
500+ products
400+ Chinese selected importers and dealers
200+ online matchmakings
Exhibitors' Benefits
Easy Access to Your Clients. We will help you find & match suitable Chinese importers.
Online 1:1 Matchmakings. Private, efficient & in-depth communication opportunities.
Speech Delivery at Exhibits Promotion Conference.
Online Enquiries. Instant communication & won't miss any inquiries from your clients.
One-year Value-added Advertisement. Besides ICE website, your exhibits will also be extensively promoted through CCPIT's www.tradeinvest.cn and other social media including WeChat and Chinese Tiktok for a whole ONE YEAR!
Legal Consultation. Need legal service on exporting your products to China? We are at your hand to give you helpful advice.
Translation. No Chinese staff? We will manually translate all your information into Chinese, and provide translation service during online matchmakings. More accurate!
Multi-form Display. You can design your own online booth individually as a public channel for Chinese dealers. Your information can be fully displayed in text, photo or video in the way you like.
Cost-effectiveness. No international business trip! No quarantine isolation! Just visit CICE anywhere, anytime. Safe and fast and effective.
Professional Training. No experience in the Chinese market? Let's learn it right now right here! Professional speakers and attractive topics.
Supporting Activities
The organizer will arrange 2-8 promotion online meetings & one-to-one matchmaking for each exhibitor. The matchmaking will be hosted in June and July.
The organizer would invite experienced and professional persons to give online lectures to exhibitors. The exhibitors will learn skills and tips on how to do business in China and get much knowledge of the Chinese market.
Online Promotion and advertisement
The organizer will advocate for the exhibitors through the CCPIT trade and invest network and its website as well as WeChat official account, TikTok and other new media platforms.
The organizer will hold a number of various activities, including but not limited to the forum, round table, seminar and conference, etc, during the exhibition period.
Exhibition Fee
Bronze exhibitor: USD 250
Silver exhibitor: USD 600
Gold exhibitor: USD 1,000
Diamond exhibitor: USD 2,000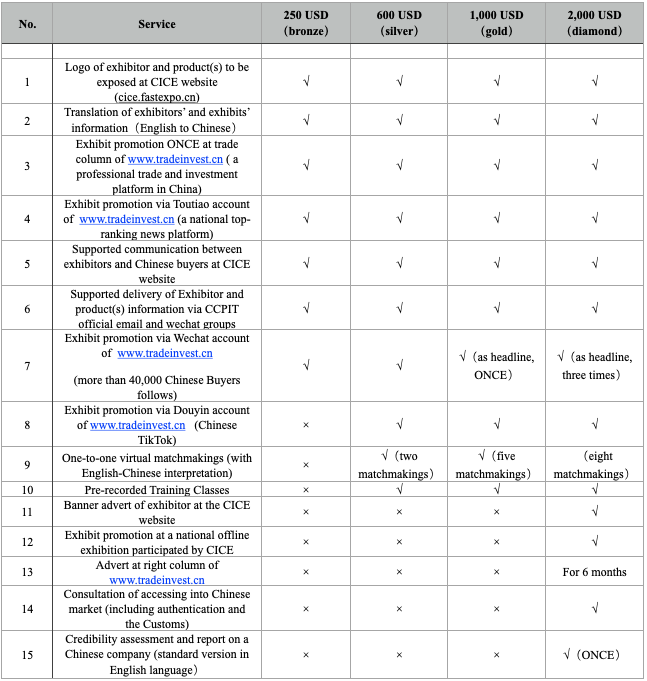 ---
About the Organizer
Founded in 1952, China Council for the Promotion of International Trade (CCPIT) is the largest foreign trade and investment promotion agency in China, with over 1,000 national sub-branches, 38 overseas representative offices and more than 250,000 member companies. CCPIT also participates in World Expo on behalf of the Chinese government and supports China International Import Expo (CIIE) and China International Fair for Trade in Services (CIFTIS).
CCPIT Information Center, an affiliate to CCPIT, specializes in international trade and investment consulting and provides trade and investment matchmakings of 800,000 times per year.
Exhibition name in Chinese:
首届国际进口消费品线上展览会
Venue:
Online
City:
Online
Organiser:
China Council for the Promotion of International Trade
Other Exhibition
Venue: Online

Organiser: China Council for the Promotion of International Trade

Exhibition

Venue: Online

Organiser: EUTECH

Exhibition