Set up a WeChat shop and start selling to over 1 billion users via cross-border e-commerce. This solution includes providing support on registering your trademarks, registering your products at customs authorities, and setting up your account on WeChat. The service also includes the drafting of a tailored digital marketing strategy for the promotion of your products or services.
What We Offer
Cross-Border E-Commerce is the latest booming trend in China. This service will support your business through the entire process of building and profiting from their cross-border WeChat Shop: from registering your product and trademark, to structuring your digital marketing strategy.
Why WeChat
It is China's increasingly significant channel to sell to the Chinese market.
1 billion users globally.
Offers connections to thousands of Key Opinion Leaders (KOLs).
Easy on-line payment and money transfer to EU bank account.
The Service in Details
The service is implemented by Emerald Green Consulting and has three categories:
Bronze
Ideal if your business is establishing a corporate face in China and WeChat official presence without marketing or e-commerce functionalities.
Starting from 30,000 EUR*
Silver
Designed for your business to sell online and market directly to the Chinese consumer.
Starting from 50,000 EUR*
Gold
Enables your business to establish an e-commerce strategy and engage directly with the Chinese consumers through a network of key opinion leaders and on social media channels.
Starting from 70,000 EUR*
* Includes one-time fixed set up costs and annual fees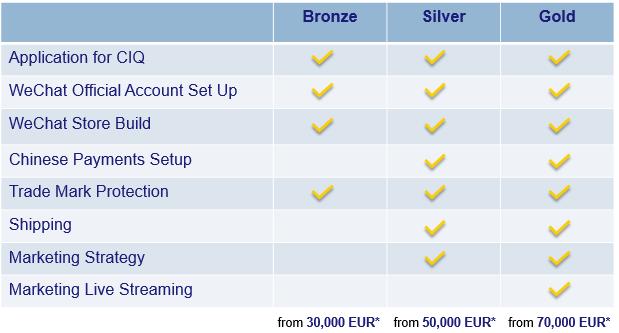 Learn about the advantages of a cross-border WeChat Shop by watching our webinar on "How to Build, Operate and Profit from a Cross-Border WeChat Shop"
Log in and have access to the EU SME Centre guideline, which provides a full explanation of all the elements involved in the process of setting-up your own cross-border WeChat shop and will help you prepare your e-commerce plan for China, here.
For more information on the service and how to tailor it to your business' needs, contact the EU SME Centre at: wechatshop@eusmecentre.org.cn