Find a service provider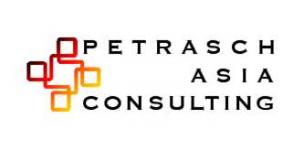 Petrasch Asia Consulting KG
Type of services:

Consulting, Distributors, Sales Agents, Importers, Market Research and Analysis, Quality Management (obtaining samples, accompanying the consignment to the destination, etc.), Sourcing and Procurement, Trade Promotion

Affiliation to a Chamber
of Commerce:

Other

Member state:

Germany

Languages spoken:

Chinese, English, French, German

City:

Beijing, Shanghai

Website:
Contact Info
Kristin Petrasch

Strategic business development

General Management
T: +49 3628 6609747
T: +86 10 6266 7685
Fax: +49 3628 6609748
Mob: +49 179 9296240
E: kristin.petrasch@petrasch-asia.de

WinWinTec Beijing Office Room 1006, Block A, Jiahua Building, No. 9 Shangdi 3rd Road, Haidian District Beijing 100085, P. R. China
Petrasch Asia Consulting KG WinWinTec UG Dr.-Arno-Bergmann-Strasse 14 DE-99310 Arnstadt, Germany

Company background
The company Petrasch Asia Consulting (PAC) is mainly focussed on linking German and Chinese companies and institutions from technology-intense sectors like optoelectronics, medical technology, electronics, telecommunication and mechanical engineering.
Bettina Kristin Petrasch studied Economic Sciences at Berlin / Germany as well as Audit and Management of Enterprises at Bourg-en-Bresse/France. She received her Master (DESS) in France in 1992.
Since January 2004, she is Managing Director of the management consultancy company Petrasch Asia Consulting (PAC) KG at Arnstadt / Germany, with branch offices at Beijing and Shanghai / P.R. China and an associate office at Kuala Lumpur / Malaysia.
From 2008 to 2013, she was Member of the Board of the German-Asian Business Circle (GAC), director of the GAC office Middle-Germany at Erfurt / Thuringia and since 2006 Country Delegate Malaysia within the Women Entrepreneurs Association of Germany (VdU).
From 1998 to 2004 she was Project Director Asia-Pacific of the Thuringian Agency of Foreign Trade Promotion, of which she was appointed to be Vice General Director from 2003 to 2004.