Find a service provider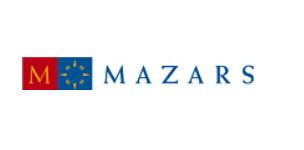 Mazars
Type of services:

Accounting, Auditing and Tax Services, Consulting, Due diligence, Investments

Affiliation to a Chamber
of Commerce:

Benelux Chamber of Commerce in China (Bencham), China-Britain Business Council (CBBC), China-Italy Chamber of Commerce, European Union Chamber of Commerce in China (EUCCC), French Chamber of Commerce in China (CCIFC), German Chamber of Commerce in China (AHK), Spanish Chamber of Commerce in China

Member state:

Austria

Languages spoken:

Chinese, English, French, German

City:

Beijing

Website:
Contact Info
Thierry LABARRE

Senior Founding Partner

Management
T: +86 10 8518 9780
Fax: +86 10 85189781
Mob: +86 13701359739
E: thierry.labarre@mazars.com.cn

北京市东长安街1号, 东方广场E-1座1608, 100738 北京
1608- Tower E1 - Oriental Plaza, No.1 East Chang An Ave.
Company background
Mazars is an international, integrated and independent organisation, specialising in audit, accountancy, tax, legal and advisory services. Mazars can rely on the skills of 13,000 professionals in the 61 countries which make up its integrated partnership on the five continents. Mazars also has correspondents and joint ventures in 21 additional countries. Mazars is also one of the founding members of the Praxity alliance, which gathers 79 independent organisations and 28,000 professionals in 82 countries. We operate as one firm across our four China offices in Beijing, Guangzhou, Shanghai and Hong Kong, subject to local applicable laws. Together, we employ about 500 highly qualified professional and general staff. Mazars focuses on delivering value in meeting our clients' needs. Our vision is to seek to make a difference to our clients, our team and our community by providing high calibre accounting, tax and business advisory services in a manner that is personal, principled and professional. Our mission is to focus on our clients' needs, delivering value through our personal touch backed by big experience. Our values include integrity, independence, honesty, transparency and accountability. They are at the heart of everything we do. We believe in taking personal responsibility, remaining client focused; working together with respect, and achieving the highest personal standards. Our Hong Kong operations started in early 1990's. We opened an office in Beijing in 1997, followed by the Shanghai office in 2002. The Guangzhou office was opened on 2007.