Find a service provider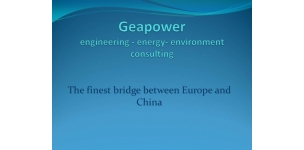 Geapower
Type of services:

Consulting

Affiliation to a Chamber
of Commerce:

European Union Chamber of Commerce in China (EUCCC)

Member state:

Italy

Languages spoken:

English

City:

Other

Website:
Contact Info
Gianluca Ghiara

General Manager

International Relations
T: 0086-10-85885599
E: ghiara@geapower.com

北京市朝阳区光华路15#院1#楼四层B029室
China CBD TEDA Building, Building A, Floor 4, Guanghua Lu, Chaoyang District, 100026 Beijing. 
Company background
Geapower is a consulting company active in Environmental Protection and Renewable Energy fields.
Geapower can provide to its clients a wide range of services both from industrial and consulting point of view.
Geapower represents in China a many European companies with more than 20 years experience that can bring the best technology solutions today present in European market.
Geapower in Europe supported a large number of Chinese companies, Institutions and Associations to implement a successful strategy in order to perform successful businesses
Geapower, for more than 10 years, have helped a large amount of clients in multiple industry developing and delivering winning strategies.
Geapower is your one-stop consulting firm for all your project needs to enter and be successful in the European and Chinese market.
Geapower, thanks to its large contacts, can find the best engineering and technological solution tailor made for its clients needs.
Geapower provides highly qualified engineering consulting services in particular in the field of :
* Renewable energy: dry anaerobic digestion, WTE/incinerators, co-generation plants, CHP and CCHP solution, biogas and biomass power plant, heating pumps technology, district heating planning.
* Industrial waste water: waste water management/treatment and disposal of inert hazardous sludge from industrial plants: chemical, leather, mineral, hydrocarbon, etc.
* Air pollution control: Selective Catalytic Reduction (SCR), Selective Non-Catalytic Reduction (SNCR), Low-NOx combustion technology, Catalyst selection - Service contracts, installing equipment, on site project management.
Supported by our industry leading knowledge, commercial experience and practical approach, Geapower provides high quality industry expertise and management consulting services.
Geapower supports its clients to develop efficient and successful business relation that enable rapid response to customer and market necessities.
China is not an easy country to start business and a good preparation is half the work. Starting up with a suitable strategy increases dramatically your chances on success. Geapower helps you in this preparation through a deep market research on your sector, combined with a strategy advice on whether and how best to enter the market.
Geapower will find out for you:
* The present status of the market
* Major players strengths and weaknesses
* Analyze future growth opportunities
* Pricing and product definition
* Opportunities for your companies
* Potential market entry methods
* Market entry recommendation