Find a service provider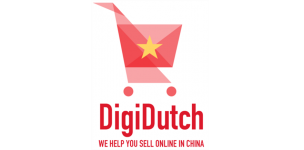 DigiDutch
Type of services:

Consulting, Distributors, Sales Agents, Importers, Legal Services, Logistics, Market Research and Analysis, Patent and Trademark Law Services, Product Standards, Testing, and Certification, Training

Affiliation to a Chamber
of Commerce:

Benelux Chamber of Commerce in China (Bencham)

Member state:

Netherlands

Languages spoken:

Chinese, Dutch, English

City:

Amsterdam, Beijing, Guangzhou, Hangzhou, Shanghai, Shenzhen

Website:
Contact Info
Cathelijne Klapwijk

General Manager

DigiDutch
T: +31 (0)85 – 016 00 46
T: +86 136 8192 6965
E: info@digidutch.cn


The Factory Building No.3, Room 601 695 Ling Shi Road Zhabei District, Shanghai

Company background
The DigiDutch Platform has more than 50 years of combined experience in doing business in China. We are 8 well‐established companies with proven track records. We speak the same language and collaborate to offer you a one‐stop solution in entering the Chinese online environment.
We have helped over 900 companies to sell online in China, some of the companies we worked for are: Philips, Asos, DSM, Lacoste, Vitaminstore, Noppies, Glamour sales, Nu Skin, Kerry Logistics, Torres, Storck and Simon Lévelt.
In March 2015 we were officially launched by the Dutch Prime Minister in Shanghai. The initiative is supported by the Consulate of the Kingdom of the Netherlands in Shanghai.
Our Services:
E-Commerce Strategy & Market Entry
We offer e-commerce research & strategy, as well as market entry services. The purpose is to give you strong, sustainable foundations on which to build your profile in China.
Branding & Online Marketing Planning
We help you localise your brand and can create a tailor made online marketing plan for your industry and product or service.
Online Channel Development & Operations
We help to grow your business across a number of platforms. This may include management and strategy for your online shop, as well as logistics and fulfilment services.
Online Marketing Execution & Customer Service
We offer to fulfil your online marketing plan on Search, Social and CRM. We also give you the tools to convert and retain your customers.