Home
>
News
> Understanding and Engaging in China's Changing Market: EU SME Centre Holds Annual Understanding China Training in Brussels
16 and 17 February 2017, Brussels - The EU SME Centre successfully organised the third edition of its annual Understanding China training, highlighting topics that help EU businesses better understand and engage in China's changing market.
The two-day programme was catered to the needs of EU-based SME-networks, chambers and business support organisations.
During the first day's programme, the Centre's Director Chris Cheung shared insights on the economic trends in the Chinese market that European SMEs should look out for in 2017. He emphasised that China's economy structure is getting more sophisticated triggered by a variety of factors. Despite the declining optimism, the Chinese economy still offers the potential to EU SMEs, especially in next generation ICT, environmental technologies, education, and electronic cars sectors among others.
Cross-border E-commerce was another topic discussed in depth in the training. The Centre's Business Development Advisor Rafael Jimenez took the opportunity to introduce the latest rules from China's free trade zones regarding cross-border E-commerce.
Bank of China joined the Understanding China training for the first time. He Liqin, General Manager of Bank of China (Luxembourg) S.A. Brussels Branch explained financing solutions for SMEs in different stages of operation and services provided by Bank of China to foreign SMEs in China. For example, she mentioned Bank of China allows European businesses to set up RMB accounts in Europe.
Guo Jianjun, the Economic and Commercial Counsellor at China Embassy in Belgium joined the training to introduce trade and investment opportunities for EU businesses arising from China's 'One Belt One Road' initiative.
China IPR SME Helpdesk expert Valentin de le Court delivered a session focusing on how to best protect intellectual properties in China.
The participants discussed further topics on the second day, including how technology transfer to China works in reality, what global entrepreneurs should look out for when doing business in China, how to draft sales contracts when exporting to China and how to develop government relations in China.
"This is the best Understanding China training organised by the EU SME Centre so far and I am looking forward to the next invitation", said Petra Van Bouwelen from the Mechelen Chamber of Commerce.
"Very useful both for updating knowledge and networking", said Liisi Karindi from Enterprise Estonia.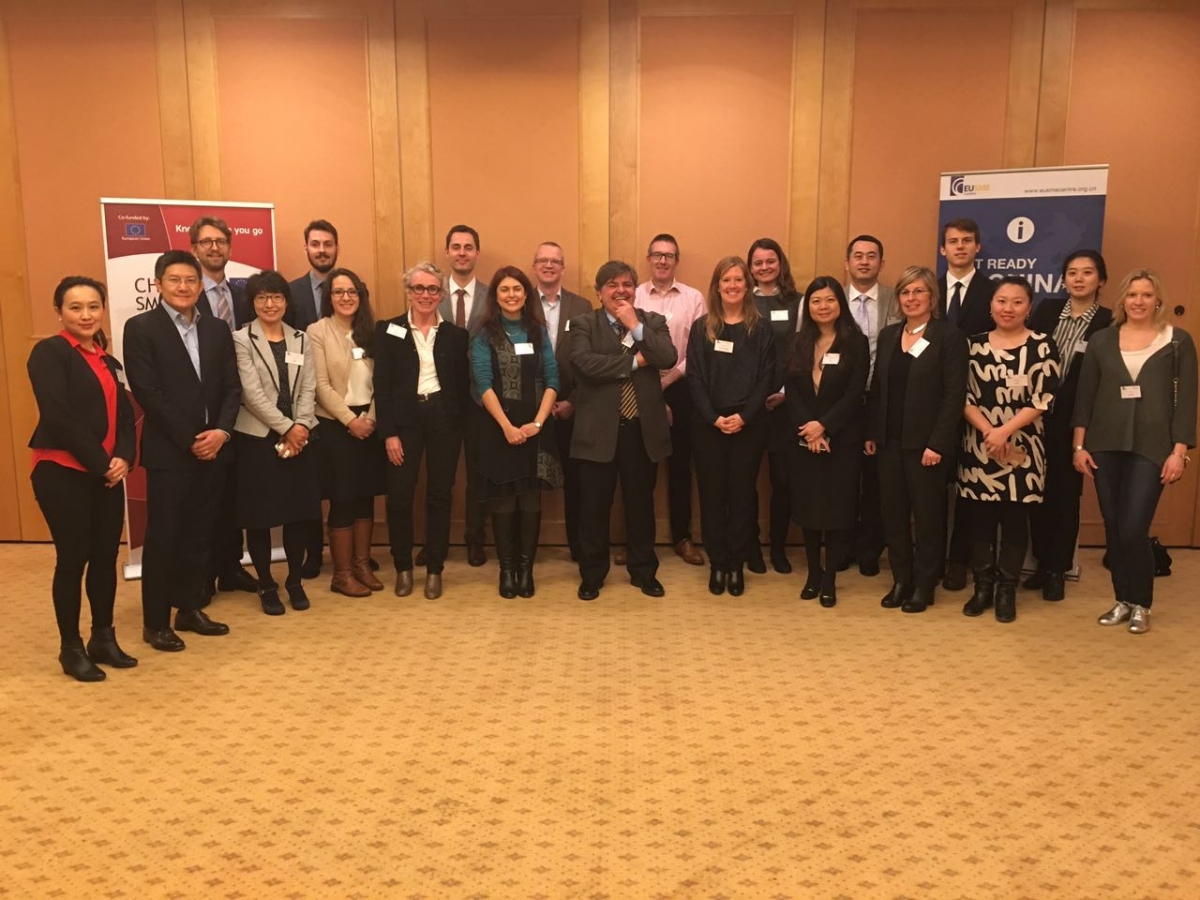 ---
About Understanding China
Understanding China was a project of the European Commission, implemented by EUROCHAMBRES and provided a platform for business and policy dialogue on EU-China relations. As one of the largest and most challenging economies in the world, China represents a huge economic potential, but also poses a number of difficulties for EU businesses - especially SMEs - trying to enter the market. Through debates, community contributions and the latest research Understanding China provided an open forum for discussion. At the same time, a targeted and specialised academic training programme was offered for employees of business representative organisations. Due to the strong alumni network of Understanding China, EU SME Centre and EUROCHAMBRES are organising the two-days training updates on a regular basis, inviting European business support organisations to get the latest facts on China economy, helping them to serve their members better.