Home
>
News
> EU SME Centre Records Another Successful Edition of the Understanding China Training Programme
As China moves towards a new era of innovation and development the opportunities for European businesses is also changing. In order to keep up-to-date with these changes, the EU SME Centre together with EUROCHAMBRES organised the 2018 edition the Understanding China programme which took place over two days – on March 15 and 16.
The two days were full of content including:
Top Trends: examines the trends-from a macro level to a firm level-that would be influencing China for years to come;
China's New Venture Internationalisation: outlines the new possibilities for internationalisation by Chinese start-ups, the underpinning rise in entrepreneurship in China due to more money, people, technology, and the implications for EU firms-big and small, to partner with entrepreneurial firms in China;
IPR Issues when Engaging with China: IP implications of Made in China 2025 and the importance of a sound EU-China IP strategy to attract foreign investors;
Servicing Chinese Outbound Tourism: development and trends, drivers and how prepared is the European supply side;
ENRICH, Opportunities in Research and Innovation: project overview, opportunities in China (2nd tier cities and R&D cooperation) and soft-landing zones;
Digital China: value chain changes in a digital China, its trends, and the opportunities for EU SMEs;
Opportunities Along the Belt and Road: why international co-incubation, for European SMEs and start-ups, case study and best practice in China and along the Belt and Road, ICI: the government role of international co-incubation – a way for EU SMEs to access the opportunities
Made in China 2025 and its Implication in the Technology Sector: Made in China 2025: principles, goals, tools and sector focus, the impact on EU companies' strategy: threats and opportunities, case studies of EU technology companies engaging with Made in China 2025;
Digital Marketing Essentials: understanding the Chinese digital customer and the digital landscape in China, how to adapt your business to the Chinese digital context, how to use the power of new data;
Cross-Border WeChat shop: the build phase, how to operate it and the importance of KOLs (Key Opinion Leaders) and online streaming campaigns and Cross-Border E-Commerce Trends.
The Understanding China programme prides itself on the mix of speakers that it attracts to the programme who offer diverse perspectives on the changing business environment. This year was no disappointment with participants and speakers from - the EU Commission, the Chinese mission to Europe, ENRICH, the China European International Business School (CEIBS), CCPIT, Exprivia, the IPR SME Helpdesk, Emerald Green Baby and the EU SME Centre.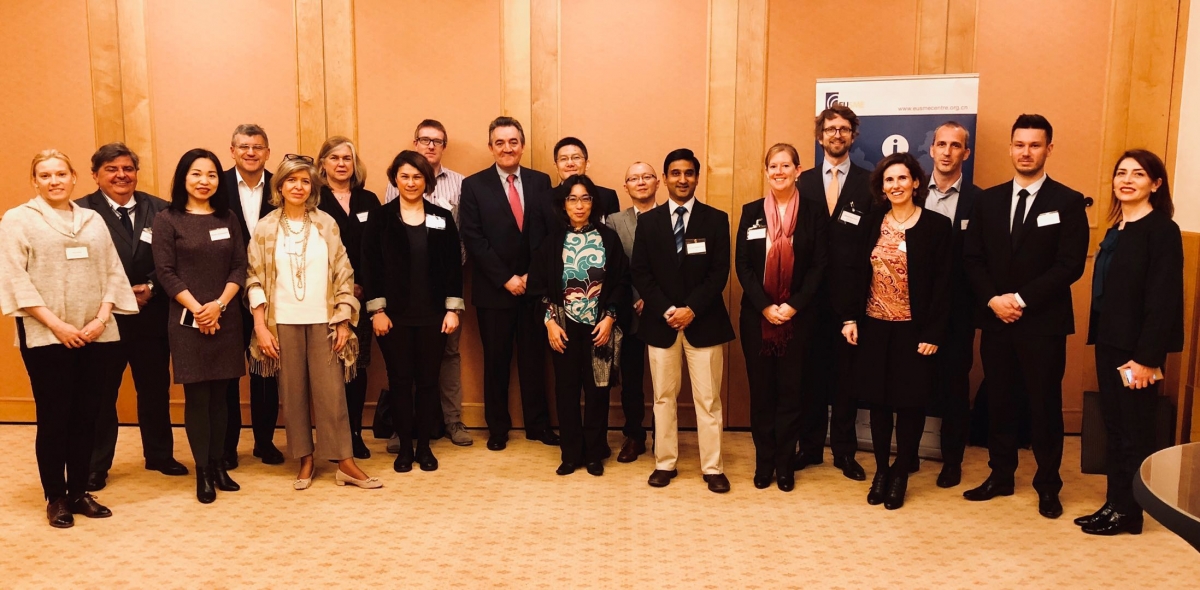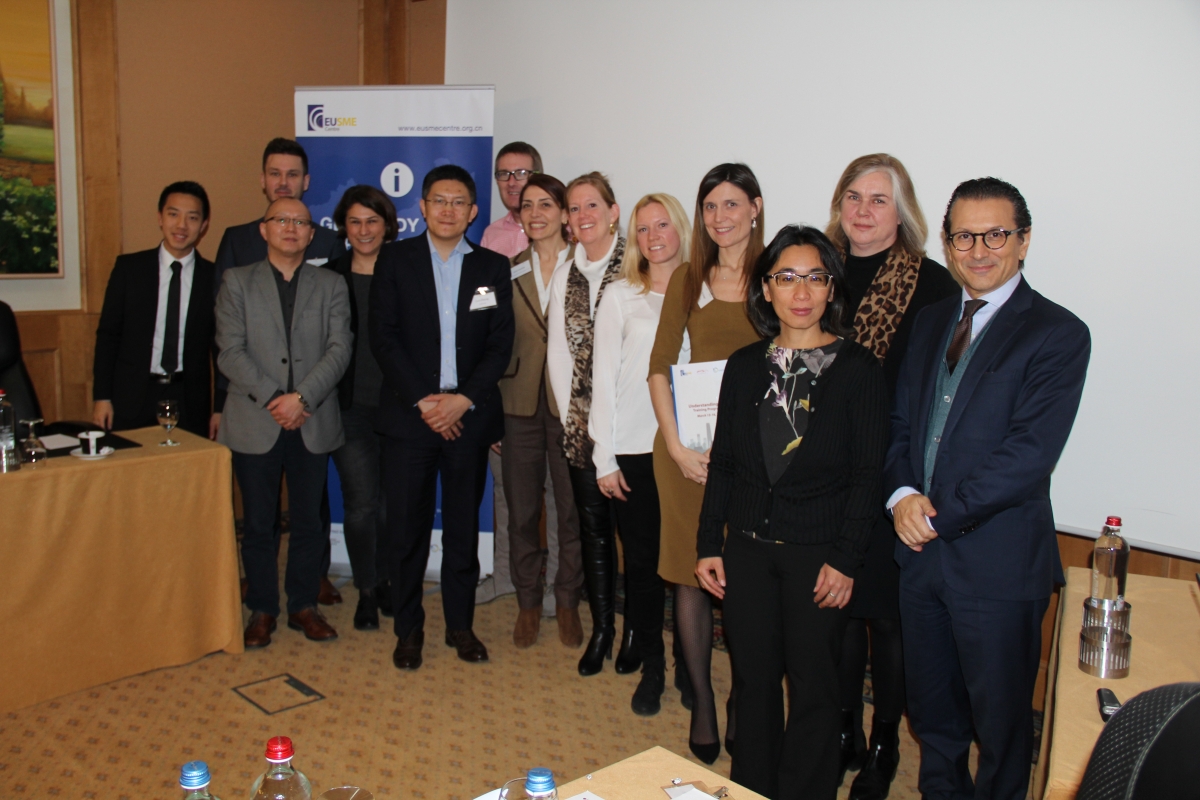 After two days of full interaction, both speakers and participants alike had a far greater understanding of China's changing business environment and how to engage with it.
The key slides from the programme and available below for download: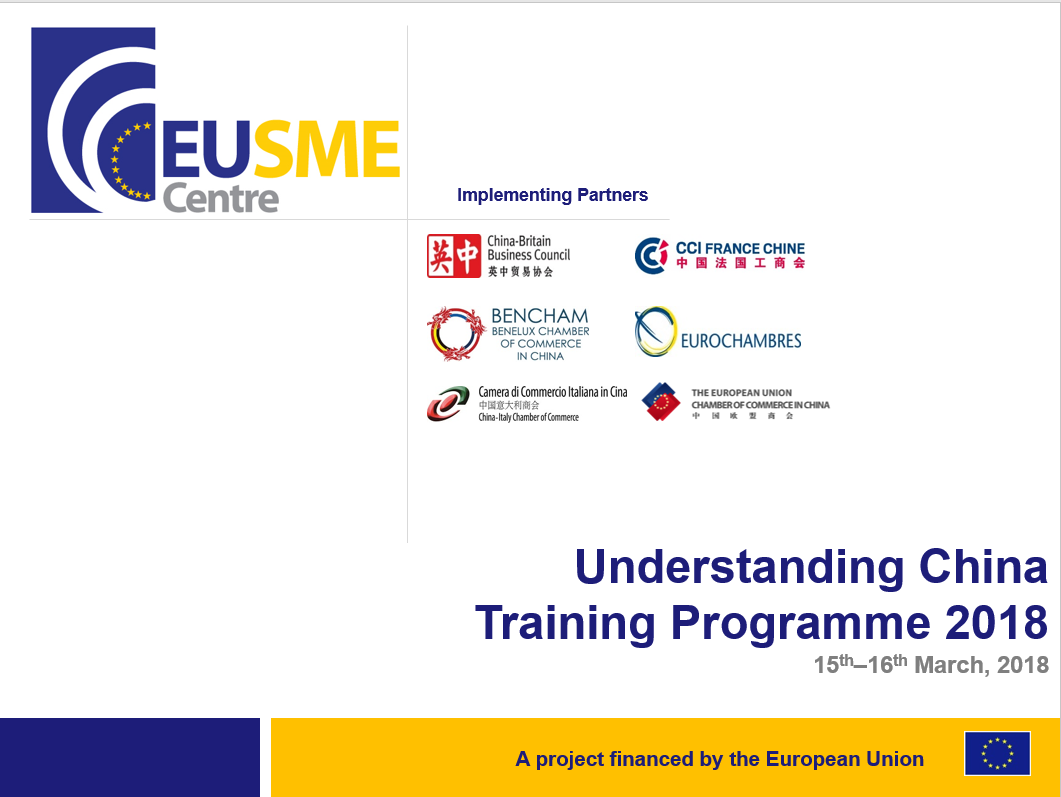 Download Attachment