Home
>
News
> EU SME Centre and EUPIC to Collaborate on Business & Innovation Centre for China-Europe Cooperation
3 August 2017, Beijing – The EU SME Centre and the EU Project Innovation Centre (EUPIC) signed a Memorandum of Understanding (MOU) to begin collaboration on Business & Innovation Centre for China-Europe Cooperation (CCEC) project, focusing on research, business advice, support for business delegations, incubation and soft landing services for EU SMEs in Beijing and Chengdu.
The Centre and EUPIC have achieved fruitful collaboration in the past few years in many different areas including assisting business delegation visits to Chengdu, helping European SMEs search and establish contacts with Chinese business partners through Enterprise Europe Network (EEN) platform. The two organisations will leverage the new CCEC project to deepen collaboration to help even more European SMEs accessing the Chinese market in the future.
CCEC, the new project implemented by EUPIC in Chengdu aims to provide useful and affordable services for European SMEs to explore business opportunities in China and southwest China in particular, a region that becomes increasingly attractive for foreign investors, according to the Business Confidence Survey 2017 from the European Union Chamber of Commerce in China.
"The Southwest remains one of the most welcoming areas for foreign investment in China. I'm very happy that the EU SME Centre has signed the MoU with EUPIC to work together on their newly established Business Innovation Centre for China-Europe Cooperation. Once operational, the new Innovation Centre will provide a base for EU SMEs to explore the fast-growing opportunities developing in the South West of China", said Chris Cheung, the Director of the EU SME Centre.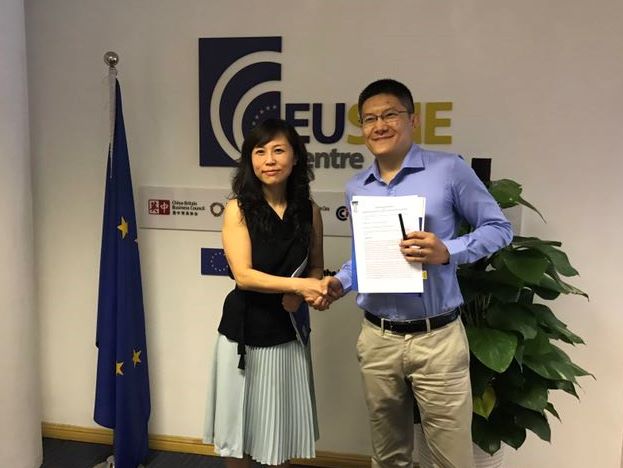 In the photo: EUPIC CEO Sagree DAI (left) signed the MoU with EU SME Centre Director Chris Cheung (right).
---
About Business & Innovation Centre for China-Europe Cooperation (CCEC)
CCEC is a comprehensive business and innovation facility centre that will be operational in Chengdu from mid-2017. The CCEC is designed to facilitate and accelerate the business and innovation exchanges between companies, organizations and research centres from Europe and China, with a specific focus and facilities for SMEs.
It is located at the southern end of Tianfu Software Park of Chengdu Hi-Tech Zone. It enjoys a favourable location and covers a construction area of approximately 210,600 m2.
This project is designed with 6+N functions, including China-Europe Exchange Centre for Technologies, European Commodities Trading Centre, China-Europe Innovation Incubation Centre, European Enterprise Supporting Service Centre, Operative Centre for Institutions, Multifunctional Centre and hotel, which aim to provide one-stop-services to European stakeholders for soft-landing in Chengdu.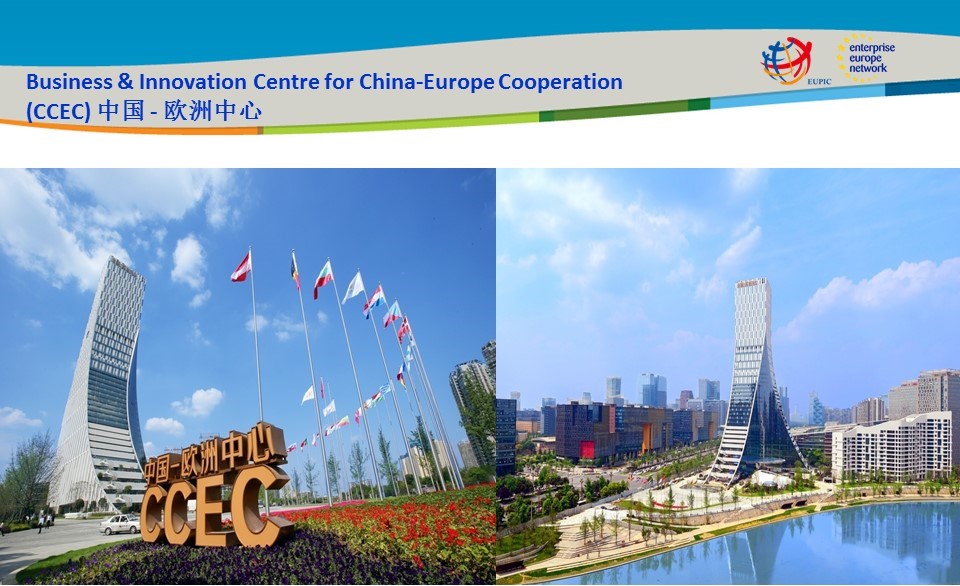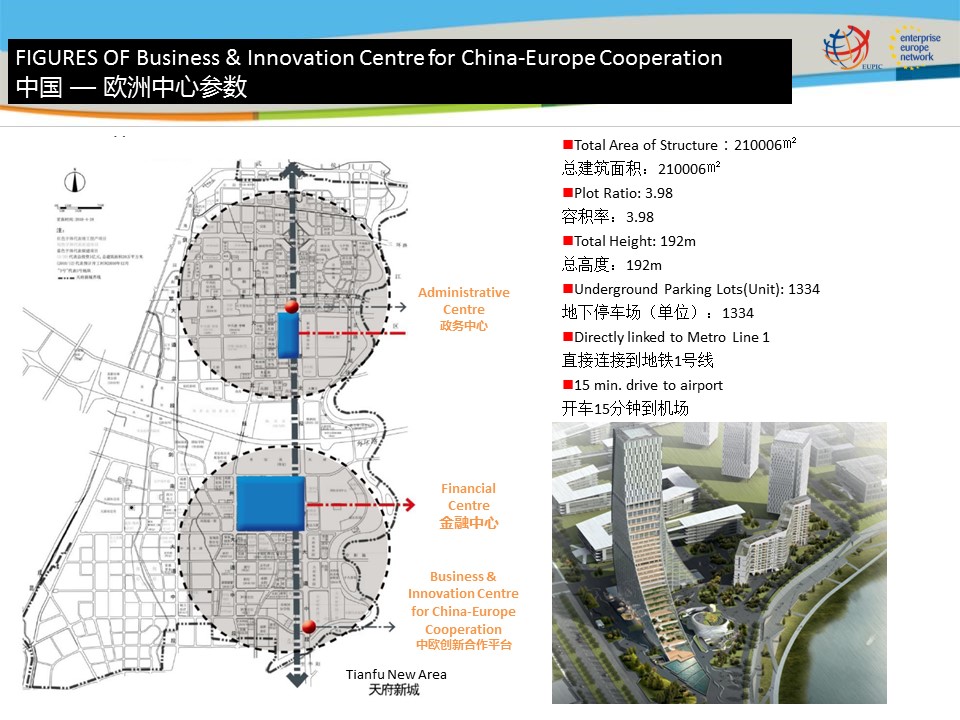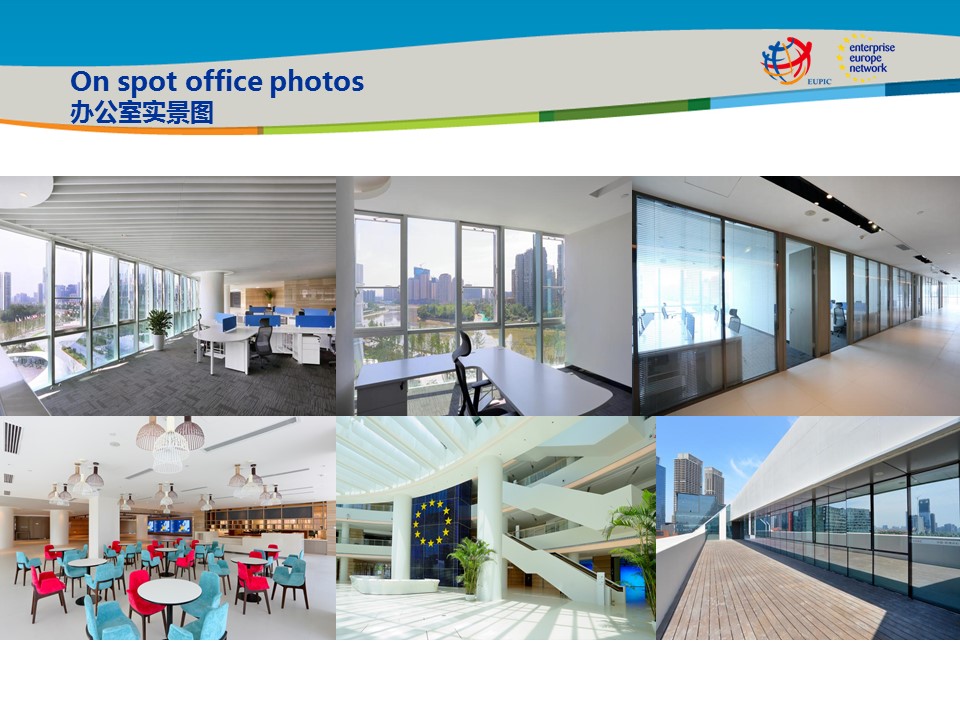 About EUPIC
EUPIC is an independent organisation established in Chengdu in 2006 under the Asia Invest Project, the European Union initiative aiming to promote and support business cooperation between the EU and Asia. EUPIC is supported by the European Commission, the Torch Centre (affiliated government agency to the Ministry of Science and Technology of China), the Sichuan Provincial People's Government, the Chengdu Municipal People's Government and the Management Committee of Chengdu Hi-tech Industrial Development Zone. Overall, EUPIC is a comprehensive platform that helps to promote innovation, trade, investment and technical cooperation between the EU and China. EUPIC has also been the coordinator of the EU-initiated Enterprise Europe Network ("EEN") for West China since 2011 and the coordinator of EEN North & West China since 2014. Learn more about EUPIC here.