September 6th 2017, Beijing - The EU SME Centre Business Development Advisor Rafael Jimenez presented at the seminar "Selling Imported F&B in China: Where Is It Heading?", organised by the Cheung Kong Graduate School of Business (CKGSB) together with the EU SME Centre, the China-Australia Chamber of Commerce in Beijing and Eibens Consulting.
The seminar aimed to unfold the direction where the import of food and beverages in China is heading, being a prosperous but sometimes challenging market for foreign companies. During the seminar, Rafael discussed the key changes in distribution channels and category management. Professor Yu Gang from CKGSB presented the audience with more background information on selling via e-commerce. Pablo Recio Gracia from Eibens Consulting gave a number of examples on how SMEs can collaborate and combine their resources to enter the Chinese market on e-commerce channels. The COO of MissFresh, Cecilia Sun, and Vasco Sun from Torres showed how their companies have changed Chinese traditional consumption, with honest and clear supply chains. Claudia Masüger, CEO and founder of Cheers explained how she made the shift from B2B to B2C in her search for an honest business, once again changing traditional Chinese consumption.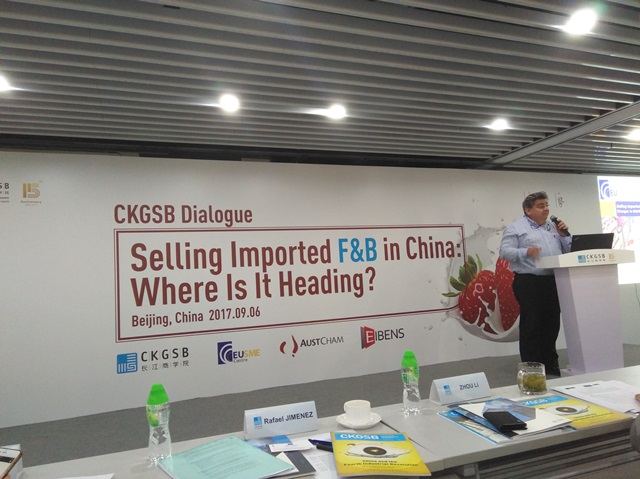 The panel discussion, led by Professor Yu Gang, covered a wide range of questions such as what is the importance of the Chinese market for your company? To what extent should companies customise their products for the Chinese market? How do you empower your local partner?