Home
>
News
> 42 European Companies in Healthcare and Medical Technologies Seek Business Opportunities in China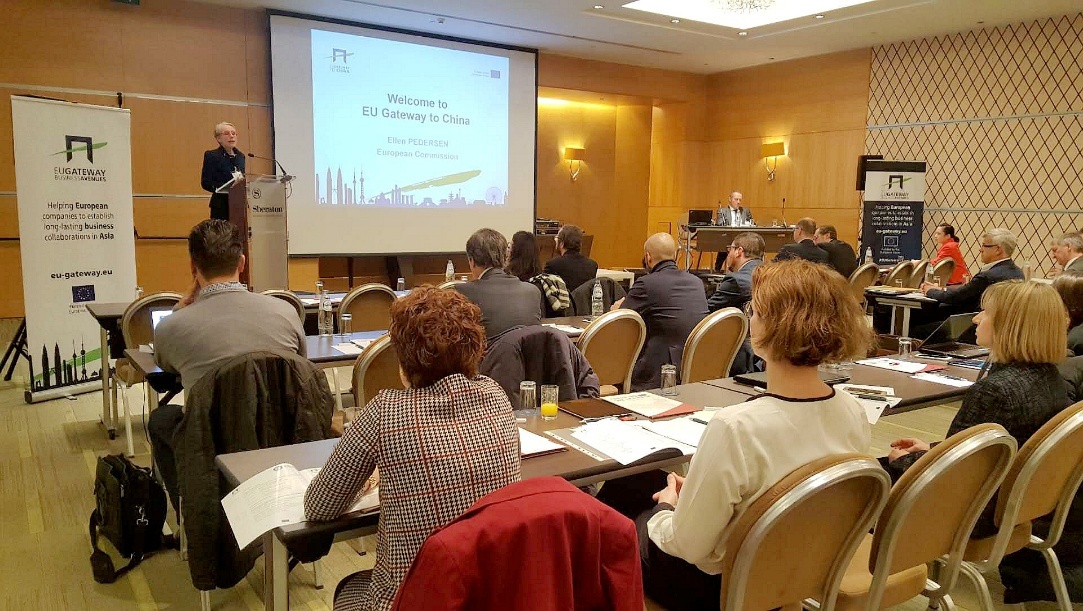 EU Gateway to China will bring 42 European companies to Shanghai for a week-long Healthcare and Medical Technologies business mission from 9-13 April 2018.
This third EU Gateway to China Business Mission will showcase a broad range of technologies, products and latest solutions in Assistive technologies, Medical equipment, ICT for health, Telemedicine and remote health monitoring, Nanotechnology healthcare, Life Science/Biotechnology for health and Dental products. Among award-winning technologies, some of these include: dental cone beam CT technology, novel and proprietary in-vitro cloning technology, custom-made magnifying loopes for dentists, the world's first Pulsed Electromagnetic Fields device with an ultra-light flexible applicator, whole-body cryotherapy solutions and robotic and computer-aided therapeutic devices in the neuro-rehabilitation area.
The 42 selected companies are coming from the following 16 European Union (EU) Member States:
Austria, Belgium, Denmark, Finland, France, Germany, Greece, Hungary, Ireland, Italy, Netherlands, Poland, Slovakia, Spain, Sweden, United Kingdom.
The Healthcare and Medical Technologies Exhibition days will be held at the Sofitel Shanghai Hongqiao, where the pre-arranged one-on-one meetings will also be organised for registered business visitors. Visitors can meet with the European companies at their booths to establish contacts and discuss possible cooperation.
China Customs statistics show that in the first 10 months of 2017, China imported medical equipment worth 53.36 billion CNY, an increase of 12.3% over the same period last year. In October 2017, China imported medical devices from the European Union Member States worth 1.71 billion CNY, an increase of 24.7% compared to October 2016. With the development of the economy and the increase in the elderly population, the demand for the medical device market will become increasingly strong, and facilitate the growth of imports correspondingly.
In December 2017, EU Gateway to China already brought 34 European companies to the Chinese healthcare and medical market. The Programme and its business support services will in 2018 continue to provide a valuable platform for Chinese and European companies to cooperate in the key areas of disease prevention, early detection, and treatment.
The programme was launched in March 2017 in Beijing. EU SME Centre Director Chris Cheung was invited to moderate the launch event and provided the opening remark.
About EU Gateway to China
EU Gateway to China is an initiative funded by the European Union supporting European companies to establish long-lasting business collaborations in China.
Following the completion of the first two business missions to Beijing and Shanghai in 2017, which focused on the clean technologies sector and the healthcare and medical technologies sector respectively, the EU Gateway to China Programme now returns to Shanghai in 2018 with a focus on healthcare and medical technologies.
The EU Gateway to China Programme is built on a successful EU Gateway model of matchmaking and business support services. The original EU Gateway | Business Avenues was launched in 1994 in Japan. Since then, it has acted as a bridgehead to provide business support services to European enterprises interested in developing their business in Asia. From 2016 to 2020, the programme will run in Korea, Southeast Asia, China and Japan.
Exhibition details are as follows:
Time: 10-11 April 2018, 9AM-5PM
Venue: Sofitel Shanghai Hongqiao Hotel, 666 Taihong Road, Minhang district, Shanghai
Registration at: www.eu-gateway.cn/node/426
Questions to: contact@eu-gateway.cn
42家欧洲企业来华探索医疗健康技术国际合作机遇
欧企中国门户项目将于2018年4月9-13日带领42家欧洲企业来华参加在上海举办的医疗健康技术商务考察团活动。
本次第三场欧企中国门户商务考察团活动将为国内企业展示辅助技术、医疗设备、医疗信息通讯与技术(ICT)、远程医疗与远程健康监护、纳米医疗、生命科学/生物技术和牙科产品等领域的一系列技术、产品和最新解决方案,其中一些技术和产品曾获得各项国际大奖。这些来自欧洲的最新技术/产品包括:口腔锥形束CT系统、新型体外抗体制备技术、牙科专用定制放大镜、全球首个超轻磁疗敷贴及外周动脉疾病理疗仪、全身冷冻疗法解决方案、神经康复机器人和计算机辅助治疗设备等。
经严格筛选的42家欧洲企业来自以下16个欧盟成员国:奥地利、爱尔兰、比利时、意大利、丹麦、荷兰、芬兰、波兰、法国、斯洛伐克、德国、西班牙、希腊、瑞典、匈牙利和英国。
本次商务考察团活动的核心行程:医疗健康技术商务展会&中欧企业对接会将在上海虹桥新华联索菲特大酒店举办。期间,预注册的中国企业代表将与欧企代表进行一对一商务对接会议并开展深入的探讨以增加达成商务合作的机会。
中国海关统计数据显示,2017年1月到10月,中国进口医疗器械533.6亿元,较去年同期增长12.3%。2017年10月,中国自欧盟成员国进口医疗器械17.1亿元,较去年同期培增长24.7%。随着经济发展以及人口老龄化程度的提高,中国医疗器械市场需求将日益旺盛,并随之拉动进口增长。
欧企中国门户项目于2017年12月带领34家欧洲企业探索中国医疗健康技术市场。项目及其商务支持服务将在2018年继续在疾病预防、早期检测与治疗等领域为欧洲和中国企业提供一个有价值的商务合作平台。
关于欧企中国门户
欧企中国门户由欧洲联盟供资,致力于帮助欧洲企业与中国企业建立长期稳定的商业合作关系。
随着前两场清洁技术和医疗健康技术商务考察团活动分别在北京和上海的成功闭幕,欧企中国门户项目本次再次来到上海并聚焦医疗健康技术领域。
欧企中国门户项目的建立是基于一个成功的欧盟门户商业扶植计划。欧盟门户计划于1994年在日本首先开始实施,并自此一直为欧洲各行业的企业提供在亚洲目标市场进行业务拓展的机会。项目计划在2016年至2020年实现韩国、东南亚和中国市场的全方位覆盖。
展会信息如下:
时间 2018年4月10-11日,9:00-17:00
地点 上海市闵行区泰虹路666号
上海虹桥新华联索菲特大酒店
注册网址 www.eu-gateway.cn/node/426
010 8527 5705-662