Date :

Sep 12, All day, 2017
China's healthcare and medical device sectors have been growing fast, presenting good business opportunities for EU SMEs. For example, in 2016, China's total import volume in the healthcare sector, including traditional Chinese medicine, pharmaceuticals, medical devices and equipment, rehabilitation, and dental equipment, was USD 48 billion (approx. EUR 40.8 billion). Medical device sales revenue in China totaled RMB 370 billion (approx. EUR 47.7 billion) in the same year. Increasing market opportunities for SMEs are shown in the areas of dentistry, physical examination, healthcare IT, rehabilitation/elderly services and online shopping. However, challenges remained in these sectors include pricing pressure from the government, stricter compliance requirements, local competition, and legal barriers.
This webinar will provide you with an overall picture of China's healthcare and medical device sectors. It will introduce you the domestic regulatory framework that formulates the key regulations at national level in both sectors. Most importantly, key opportunities, challenges, and recommendations for EU SMEs will be given.
Agenda
Healthcare Sector Overview
Demographic Change
Healthcare Providers
Industry Segment: Pharmaceuticals
Industry Segment: Healthcare Service Providers
Medical Device Sector Overview
Medical Device Classifications
Medical Device Registration
Market Size and Performance
Imports and Exports
Key Growth Drivers
Market Structure
Buyer Segmentation
Supply Chain Structure
Downward Pricing Pressure
Opening-up of the Medical Device Market
Opening-up of the Private Sector
Main Opportunities and Challenges
Suggestions for EU SMEs Operating in China
Please login to access the recorded video and the slide.
About the Speakers
Ran Guo
Consultant, CBBC Beijing
Ran Guo works as a consultant at the China-Britain Business Council, Beijing. Her current focus is on the healthcare sector.
After 6 years of solid hands-on work experience in the consulting industry in Shanghai and Beijing, Ran has developed her specialty in primary market research, company due diligence, and competition intelligence analysis. She had worked for two years at a Shanghai-based British company focusing on fraud fighting and due diligence research where she worked closely with a number of Fortune 500 companies and helped solve their problems in creative manners. Afterwards she had also worked with a multi-cultural market research group in Shanghai for 3 years and focused on helping foreign companies understand the Chinese market and make investment decisions.
Emma Yang,
Project Manager, CBBC Beijing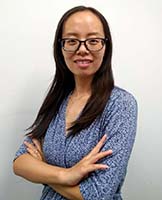 Emma Yang is the project manager of China-Britain Business Council based in Beijing, with focused area in the healthcare sector. She has 5 years of working experience in consulting industry in Beijing.
Before she joined CBBC, she worked for a Chinese consulting company, developed specialty in analyzing and marketing responsible behavior and responsible investment of companies. After joining CBBC, she developed the skills of providing market research and business support service for foreign companies in healthcare sector. She understands the obstacles and process of entering Chinese market and could provide relevant suggestions for the companies during their entries to China.