Date :

Jun 23, All day, 2017
The Pearl River Delta Economic Region (PRD) is located at China's Pearl River where the river enters the South China Sea. The zone is formed by nine cities, namely Guangzhou, Shenzhen, Foshan, Zhuhai, Jiangmen, Zhongshan, Dongguan, Huizhou and Zhaoqing.
In the last decade the PRD region battled its way towards its shift from a mainly industrial and trading hub for the local economy and Foreign Direct Investments to a new top location for retail and showcase of consumer goods. This evolution, mostly focused on the two mega-cities of Guangzhou and Shenzhen, sidelined with the need for urbanization and the physical movement of the working class (i.e. consumers) from residential and traditional areas to the new Central Business Districts with offices and retail venues.
The webinar investigates on the main retail locations in Guangzhou and Shenzhen, offers business strategies to reach the public through cases coming from the expert's direct business experiences. At the end of the webinar, it provides suggestions on the best business practice for the European SMEs who are interested in retail business opportunities in the PRD region of China.
Agenda
Introduction: An Overview of the PRD Region
The Digital Divide: E-commerce
E-commerce Users vs. Retail Locations
Limitless Outreach vs. Complex Development
Challenges to Traditional Retails
A Balance Strategy for China
Online & Offline Success: Uniqlo
Case Studies for the EU SMEs
Conclusion
You can find the recorded video on Youtube. To download the slides please login to our website.
Please login to access the recorded video and the slide.
About the Expert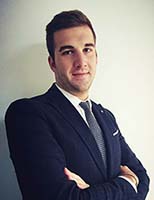 Fabio Stella
A Milan native, Fabio graduated in international affairs, law and business administration before moving to China for project courses at Peking University targeting IPR Laws and FDI in Asia.
His expertiseand current practice include retail strategy in China. He supports trading and manufacturing companies in PRC fiscal & accounting compliance.
He started his career at the China - Italy Chamber of Commerce in Guangzhou and now is the head of the People & Projects (P&P)Guangzhou & Shenzhen, whooversees business in the PRD region. His previous assignmentsincluded P&P Hong Kong and Shanghai.