Date :

Feb 22, 8:30 am - 12:00 pm, 2017
Venue :

Het Pand, Onderbergen 1, 9000 Gent
Address :

Het Pand, Onderbergen 1, 9000 Gent
Non-member Price :

240 EUR
Contact :

info@flanders-china.be
Get to grips with what it takes to prepare your market approach and start selling your food and beverage (F&B) products in China. Learn how to navigate China's import regulations and how to build and maintain a strong distribution network. Understand the regulations governing the food and drink market in China and the impact of the new Food Safety Law. Put into practice useful tips and work out your own cross-border strategy for China.
The EU SME Centre together with the Flanders-China Chamber of Commerce is jointly organising a training workshop in Gent on February 22nd.
This half-day workshop will focus on:
Consumer behaviour, trends in the F&B market.
Distribution channels.
How to develop a business plan to get your F&B products onto Chinese shelves.
The New Food Safety Law – what this means for your business.
Tentative Agenda
08:30 – 09:00 Registration
09:00 – 09:10 Opening remarks by Gwenn Sonck, Executive Director, Flanders-China Chamber of Commerce
09:10 – 09:30 Insights into the world's largest F&B market
Chinese consumers and tastes
Growing trends
09:30 – 10:20 Getting ready for export
Preparing your market approach – the 10 steps you should follow
Understanding the registration process
On-trade vs. Off-trade
Cross-border commerce
10:20 – 10:50 Coffee Break
10:50 – 11:15 How to find the right importer and distributor?
The role of each player in the supply chain
Expanding distribution networks in China
11:15 – 11:45 Food safety in China
The new food safety law – status update
The real impact for exporters
11:45 – 12:00 Case studies showing the do's and don'ts of selling F&B in China
Registration fee
Members of the Flanders-China Chamber of Commerce: 180 € (excl. VAT)
Non-members: 240 € (excl. VAT)
Click here to sign up for this event.
About the Speaker
Rafael Jimenez, Business Development Advisor
China expertise: market entry strategy, start-ups, SME business planning, streamlining costs, new business channels and local partners
With more than six years' hands-on experience in managing businesses in China, Rafael offers advice for European SMEs in developing practical market entry strategies in the country.
Following a career at a senior level within the F&B and ICT industry, he arrived in China in 2009 as Director of a Spanish F&B company involved in the restaurant and trade business. He helped the company set up a Wholly Foreign Owned Enterprise (WFOE) in China, ran operations for three years and led a team of more than 100 employees. More recently he was Shanghai Office Director at a Management Consultancy Firm. Born in Spain, Rafael holds a bachelor of Physics and has three sons.
About Flanders-China Chamber of Commerce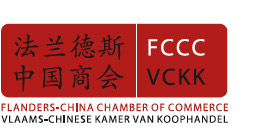 The Flanders-China Chamber of Commerce is an action platform initiated by the business community for the promotion of economic, trade and scientific relations with the People's Republic of China.
With a clear European perspective, it aims to achieve its objectives through information and interaction, and by supporting projects in cooperation with government and other public authorities. Visit its official website to learn more.